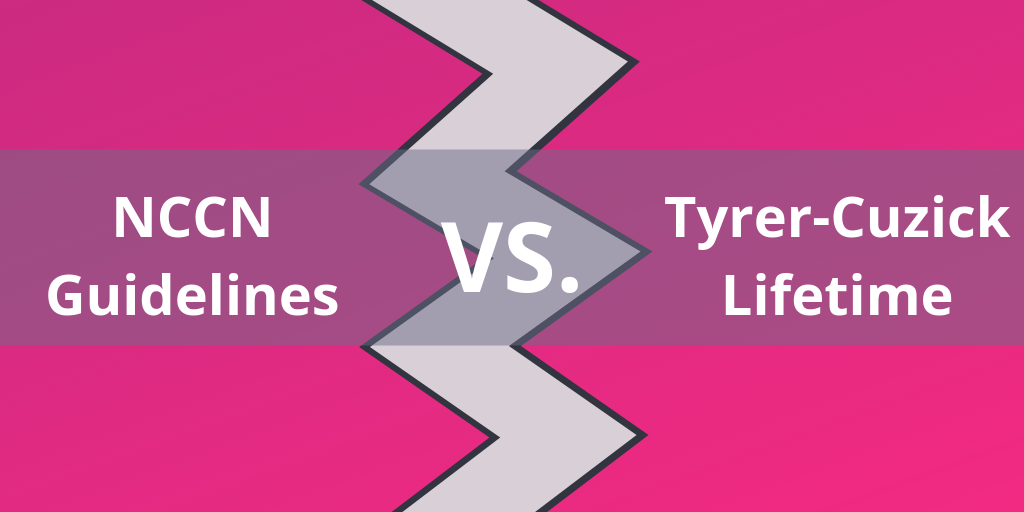 In a 2018 study, researchers tested the efficacy of the Tyrer-Cuzick Lifetime risk model for identifying women at increased or high risk of hereditary breast cancer. In doing so, 100,318 women underwent genetic testing and those results were compared against each patient's respective Tyrer-Cuzick risk score. The results? The Tyrer-Cuzick model failed to identify about 40 percent of women eligible for changes in their medical management, like increased MRI screening.
In part one, we established why cancer risk assessment, genetic counseling, and genetic testing are the standard of care in breast imaging centers. And in part two, we provided eight steps to starting your breast center's high-risk program. Now, we take a deeper dive into the risk models you use to identify high-risk patients.
Specifically, we will explore the Tyrer-Cuzick Lifetime risk model, the National Comprehensive Cancer Network (NCCN) Guidelines in Clinical Oncology, and why you should be using both the NCCN Guidelines and Tyrer-Cuzick to ensure your breast imaging center flags all high-risk breast cancer patients.
What is the Tyrer-Cuzick Lifetime Risk Model?
Tyrer-Cuzick Lifetime, or the IBIS tool, is a risk model that calculates a women's likelihood for developing breast cancer in 10 years and over her lifetime up until 85 years old. As well, it estimates the the likelihood of a being a BRCA1 or BRCA2 mutation carrier. A female-oriented risk model, Tyrer-Cuzick Lifetime focuses primarily on breast cancer, ovarian cancer, and reproductive history.
Using Tyrer-Cuzick Lifetime, a woman's risk for breast cancer is expressed as a percentage, with 20 percent being the threshold in which changes in medical management for additional screenings are determined (e.g., MRI eligibility). Because of its specific utility for identifying women who are at risk of developing breast cancer, the risk model is heavily used in breast imaging centers.
What are the NCCN Guidelines?
The NCCN Guidelines are the recognized standard for clinical policy in cancer care and are the most thorough and most frequently updated clinical practice guidelines available in any area of medicine. Specifically, NCCN is a set of guidelines that determine if a patient meets high-risk criteria for genetic counseling and genetic testing.
When determining if a patient is eligible for genetic counseling, providers are using "referral" guidelines. These are less stringent and more all encompassing than the guidelines used to determine a patients eligibility for genetic testing, which are known as the "testing" guidelines. The testing guidelines are more restrictive on, for example, age ranges and family history. At its core, these set of guidelines provide a pathway for patient management.
How Does NCCN Differ From Tyrer-Cuzick?
Whereas Tyrer-Cuzick uses non-genetic risk factors in its model to help indicate a women's eligibility for MRI, the NCCN Guidelines focus on eligibility for genetic testing. Though the NCCN Guidelines and Tyrer-Cuzick are all risk assessment tools, they are used for very different purposes - making them not interchangeable and underscoring the need to use both.
If you are using only Tyrer-Cuzick, here are three examples of how you may be missing patients today:
A 35 year old woman who has a breast biopsy that comes back as an atypical hyperplasia - but has no other inputs - would have a Tyrer-Cuzick 8 Lifetime score of over 43 percent. In this case, the patient would be flagged as eligible for MRI surveillance, because they meet the 20 percent threshold. However, the woman would not meet NCCN Guidelines with that information alone, and she would not be eligible for referral to genetic counseling or genetic testing. Researchers have demonstrated this before, showing that the Tyrer-Cuzick model significantly overestimates risk of breast cancer for women with atypia.

Any woman previously diagnosed with breast cancer would have no risk score with Tyrer-Cuzick, but that information is factored into the NCCN Guidelines. In fact, one study found that most women now have multi-gene testing after a breast cancer diagnosis; however, this genetic testing is happening later in the treatment plan than testing for only BRCA1/2 mutations. Genetic testing later in the care process means the results aren't being used to help make medical management decisions (i.e., surgeries).

Because Tyrer-Cuzick is female-focused, the risk score only emphasizes breast and ovarian cancers. As such, it's possible that a patient could have a less than 20 percent risk score, but have a family history of pancreatic cancer or metastatic prostate cancer. In such a case, the patient wouldn't be flagged unless using NCCN.
In short, these three examples highlight how Tyrer-Cuzick alone can generate inappropriate referrals, and thus overestimate risk for patients. As well, it shows that the Tyrer-Cuzick-based risk model can miss patients eligible for genetic counseling and testing.
Learn More
If your breast center is in the business of early detection and prevention, don't take a light pass at evaluating which of your patients are high risk. Using NCCN Guidelines helps flag more of the right patients who are eligible for testing, and from there, you can truly know a patient's risk for inherited breast cancer. Tyrer-Cuzick provides non-genetic risk factors that are used for determining MRI eligibility. Both serve a purpose in predicting, pre-empting, and preventing cancer before a diagnosis.
Interested in learning how one breast health center transformed after implementing NCCN Guidelines into routine screening? Download the case study.