Since the start of the COVID-19 pandemic, the lack of in-person visits may have flattened the curve, but it's made it more difficult to screen for preventative cancers. Screenings like mammograms and colonoscopies have dropped dramatically, so much so that one report estimates it could translate into 80,000 fewer diagnoses of cancer for patients, having "a significant impact on the timely initiation of treatment for treatable cancers."
Dr. Candace Westgate, an OB-GYN who runs the Adventist Health Early All-Around Detection (AHEAD) program, didn't want that to happen to her patients. The AHEAD program aims to identify patients at high risk of cancer and prevent late-stage diagnoses.
Dr. Westgate was able to use data, including risk assessment scores and gene panels, from CancerIQ to advocate for her patients during the pandemic. For example, she found one patient was overdue for an MRI and was ultimately able to schedule an in-person MRI patient during the shutdown — resulting in a Stage 1 breast cancer diagnosis. Because the cancer was detected in Stage 1, the survival rate is near 100 percent.
In this blog post, learn how a combination of CancerIQ's precision health platform and telehealth helped Dr. Westgate catch cancer early.
Transition to Telehealth
Cancer didn't stop because of COVID-19, which is why many high-risk cancer programs adopted a virtual care model. In April, shortly after the shutdowns began, Dr. Westgate shifted the AHEAD program to support virtual visits using the CancerIQ platform. Steps included:
Emailing screening and intake paperwork to patients to complete before the visit
Flagging high-risk patients for virtual visit follow-ups
Scheduling virtual genetic counseling sessions
Ordering at-home genetic tests/CRC tests
Tracking care management plans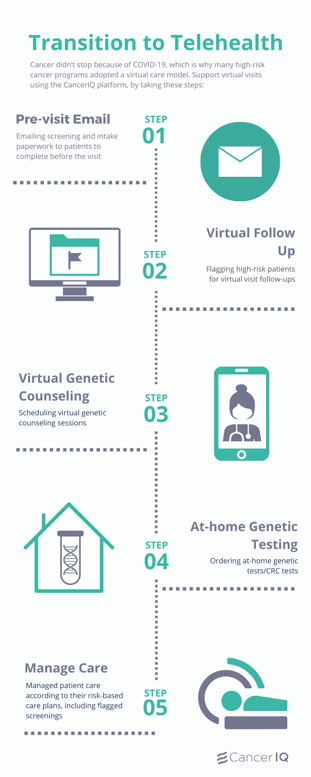 In May and June, the program, with virtual visits, averaged 131% of budgeted visit volume during COVID-19. Partners of Dr. Westgate, who chose not to utilize virtual care, averaged well below budgeted visit volume (70%).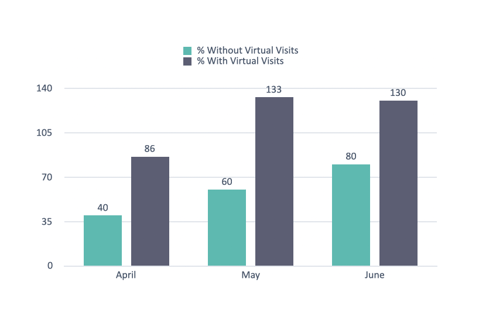 Breaking Down Silos
Dr. Westgate flagged the high-risk patient in need of the MRI with the right data at her fingertips.
Too often, clinical information is siloed between electronic systems (that don't integrate with each other) and paper notes. Finding the right information within the data can be a challenge, as it's poorly organized and fragmented.
In short, most clinicians work in an environment where data is incomplete, inaccessible, and delivered without context.
The CancerIQ Manager breaks down data silos and delivers the necessary information on high-risk patients to clinicians at the right time. Information is actionable, and insights are tailored to the patient and their individual care needs.
The platform shows which high-risk patients need which services and when. It automates patient outreach reminding them to make appointments and notifies staff when follow-ups go unheeded or are overdue.
That's what happened in this instance. The CancerIQ Manager flagged one of Dr. Westgate's high-risk patients as overdue for a follow-up MRI.
Even in the middle of the COVID-19-induced shutdown, Dr. Westgate used the data and risk scores in CancerIQ to advocate for her patient to get the MRI that ended up finding early-stage cancer.
"I'm so thankful that even during the pandemic we were able to get this patient the MRI she needed to catch her breast cancer early," says Dr. Westgate. "We must continue screening and managing care for our high-risk patients during the COVID-19 crisis. Cancer doesn't wait for anybody."

- Dr. Candace Westgate, OBGYN
To learn how to launch a telehealth program supporting virtual high-risk screening and patient management download our white paper, The Telehealth Transition: Keeping Cancer Risk Assessment a Priority.