As COVID-19 began spreading rapidly in the U.S., doctor's offices and clinics closed in-person visits to lower the risk of spreading the virus. In response, the use of telehealth skyrocketed. A survey of cancer programs from the Advisory Board showed telehealth provider visits were up 56%, and 98% of programs deployed telehealth to make outpatient visits virtual.
But as states begin to ease restrictions, clinics are reopening to provide non-emergent, non-COVID care. As you open your doors, it is imperative to make patients feel safe coming to their visit, so they can receive potentially life-saving screenings, guidance and care.
This is the second in a series of blog posts where we'll share best practices and key learnings to operating genetics and high-risk cancer programs in the age of COVID-19. We started with how to engage patients in a virtual program. Here, we'll cover how make patients feel safe as they come back into clinics for care.
Taking the Waiting out of Waiting Rooms
In a pre-COVID world, patients would complete paperwork, like the CancerIQ questionnaire, in the waiting area. But COVID reopening precautions have caused many clinics to close waiting room spaces or drastically reduce capacity so everyone can maintain a safe distance.
To comply with those recommendations, clinics may have patients fill out risk assessment questionnaires inside the exam room or ask them to complete it before coming in. Find more guidance from the American Medical Association's guide to reopening.
Sanitizing or Shunning Shared Devices
Infection control protocols have always been of upmost importance in clinical settings. But patients may now be extra wary and less trusting that sanitation steps are occurring.
We recommend adding a high degree of visibility into the sanitation process. Several CancerIQ customers share they have started wiping down pens, clipboards and tablets right in front of patients.
Some patients may still feel uncomfortable handling a shared device, even for the short period of time it takes to complete the questionnaire. Fortunately, CancerIQ enables clinicians to deliver the risk assessment questionnaire in a variety of fashions. This can also help cut down on time spent in the waiting room. Here are three main methods our customers use for risk assessment completion:
· Email or patient portal delivery. This method has become popular as programs moved to virtual visits. Patients receive a link to the questionnaire via email or patient portal message and complete it prior to their appointment. This method completely removes the need for a shared device and also eliminates extra time patients would spend in the clinic, thus limiting the risk of spreading the novel coronavirus.
· Clinician documentation. To completely eliminate the need for patients to use electronic devices, staff can verbally review the questionnaire with patients and document their responses. This does require more staff time and a highly engaged team to be effective. However, it may be good for offices concerned with patient compliance or used as a last resort for patients who did not record responses ahead of the appointment.
· Personal device within the clinic. We've worked with our customers to create a custom and engaging QR code infographic that, when scanned, will lead patients to easily access screening questionnaire on their own devices.
The infographic can be attached to the check-in desk, and front office staff can walk patients through how to use the QR code, eliminating the need for shared devices. It can also be emailed to patients in campaigns targeting screening initiatives or shared via social media.
If you are a current customer and would like a custom infographic made for your program click here.
If you are not a customer and are interested in a custom infographic and supportive screening platform for your program, click here.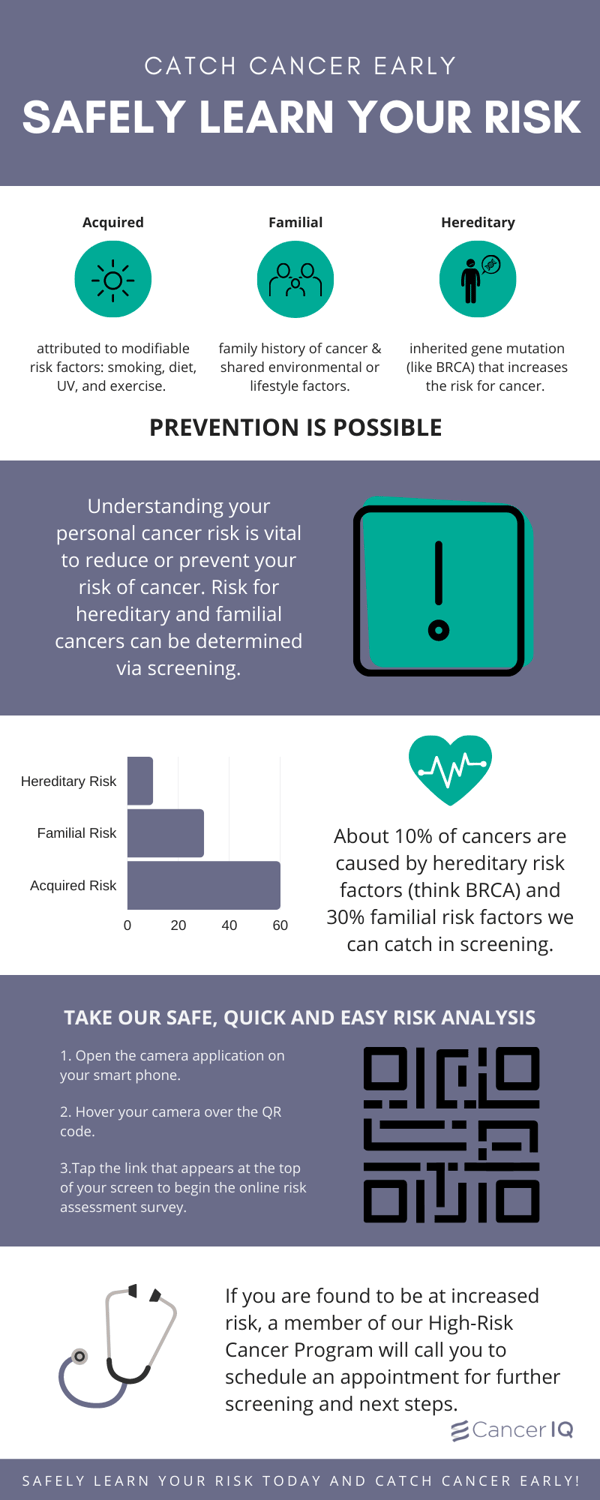 Telehealth Considerations
Just because clinics are reopening for some in-person visits doesn't mean they're abandoning the telehealth programs put in place during the pandemic (read more about Adventist St Helena and how they have successfully incorporated telehealth.)
However, a critical concern we've heard from clinics serving a large Medicare population via telehealth is that patients can be overwhelmed by home instructions. Between multiple emails with paperwork, instructions on how to access the virtual appointment, adding a virtual cancer risk assessment can seem like one step too many.
To relieve this potential stressor, we recommend partnering with your risk assessment vendor to create an all-in-one email or add your survey link to pre-appointment check lists.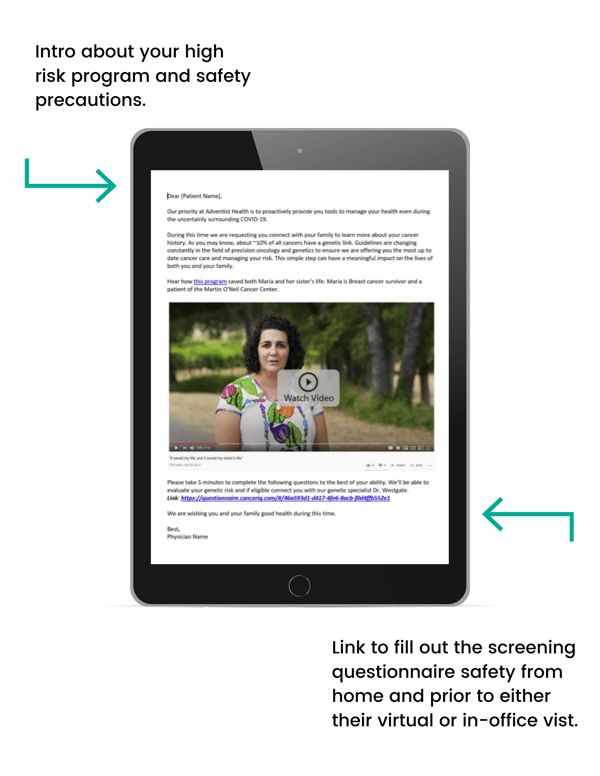 If that is not feasible, some offices have found it easier to have staff call patients ahead of time and complete the assessment over the phone. This can increase compliance and patient satisfaction.