Cancer programs across the country are all dealing with the effects of COVID-19 and trying to treat patients while keeping them safe. Advisory Board surveyed 55 programs to see how the pandemic has changed their operations.
Unsurprisingly, the survey showed most programs are embracing telehealth:
Telehealth provider visits are up 56%
98% of the programs deployed telehealth to make outpatient visits virtual
But as the chart below shows, care program leaders are concerned how to integrate telehealth programs into operations post-COVID-19, among other worries when it comes to the mid- and long-term impact of the pandemic: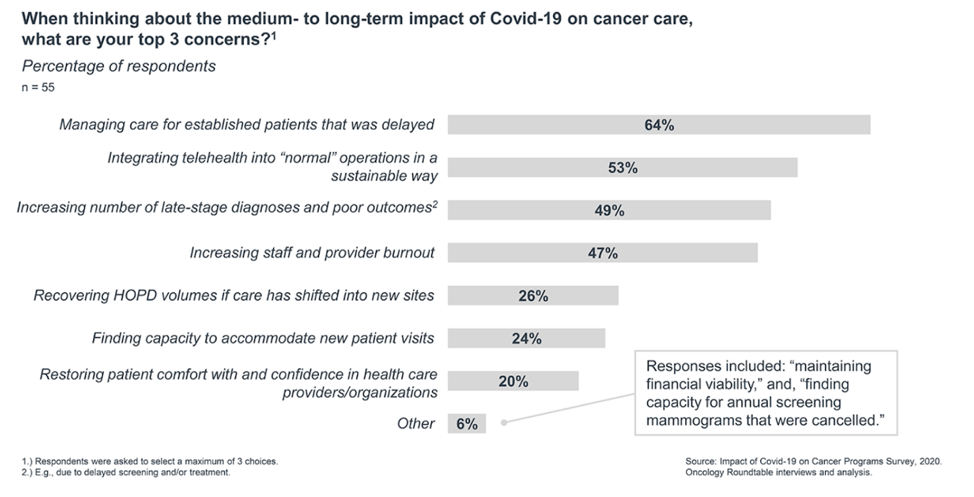 Image Source: "How 55 cancer programs are treating patients (and keeping them safe) amid Covid-19" by Deirdre Saulet, Advisory Board
This list is in line with what we've heard from our customers. CancerIQ capabilities can address many of the concerns that are top of mind for cancer programs.
Managing Care for Established Patients that was Delayed
Continuing to manage care for established patients can be difficult when in-office visits put them at risk of infection, but it is just as important now as ever to stay connected.
The CancerIQ Manager tool is designed to help providers manage current patients according to their risk-based care plan. For instance, it can:
Identify patients due for an intervention to streamline outreach and improve adherence
Automatically send education emails to patients to keep them informed of their care plan
Use patient compliance data to identify barriers to meeting care plan goals
Once providers know which patients are due for intervention, they can conduct virtual outreach to those patients to keep them on track with their care plan.
Integrating Telehealth into "Normal" Operations in a Sustainable Way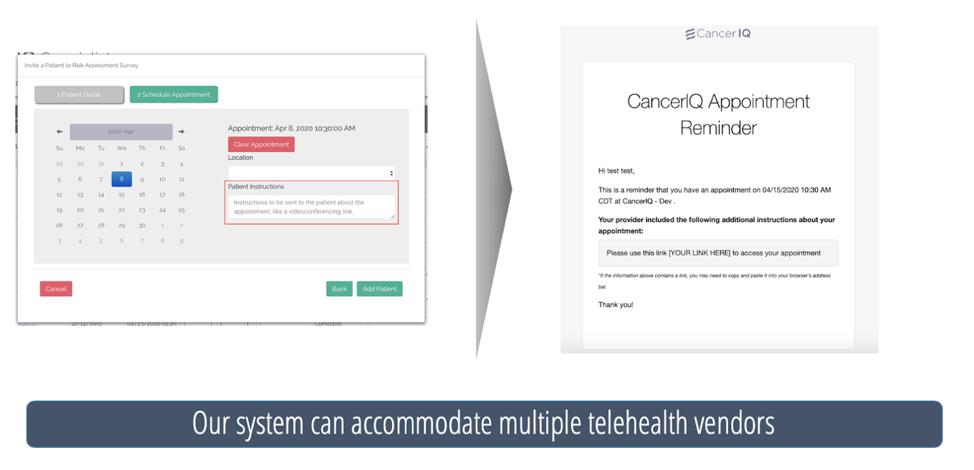 While CancerIQ is not a telehealth service, we are integrated with several vendors. A link to your program's telehealth vendor portal can be included in appointment reminder emails, making it more convenient for patients to log in.
CancerIQ can enhance provider's experience with virtual visits by facilitating documentation during and after the appointment, ordering necessary tests, and filling out insurance pre-authorization + other forms.
Handling the Increased Number of Late-Stage Diagnoses and Poor Outcomes
This concern is even more of a reason to keep precision cancer prevention programs running.
The CancerIQ Screening Toolkit is a digital questionnaire that flags patients for counseling, testing and MRI eligibility, replacing paper forms and making it so the majority of patients can complete it without staff assistance.
Programs can use email campaigns or web marketing to make the screening tool available to patients where they are, in their homes. That way programs can still capture and outreach to high-risk patients without an in-office visit.
CancerIQ is also integrated with multiple testing labs, making it easy for providers to order at-home genetic tests and manage the results. When leveraged as appropriate, they can help catch cancer in early stages, resulting in better outcomes.
Restoring Patient Comfort With and Confidence In Health Care Providers/Organizations
Proper communication can instill a sense of confidence in your patient population. CancerIQ can help you meet patients where they are via automated email campaigns, personalized to your program. The emails can explain why you're doing things differently now and also provide access to the screening toolkit for them to fill out at home.
Reaching out to patients this way lets them know you're there for them and concerned about keeping them safe and healthy in both the short- and long-term.
As we work with you to address current concerns, we know new questions will come up. This is an abrupt transition to make and we at CancerIQ will be here and are ready to help you adapt and overcome any challenges in the future. To help you get started, we've put together a Telehealth Toolkit complete with a White Paper, answers to FAQs surrounding FCC funding programs, and a link to our recent webinar on how to rapidly deploy a telehealth program.