COVID-19 has quickly altered society. It has changed workflows and processes and forced hospitals to discourage patients from coming in — to keep them safe and healthy.
But there is an unintended consequence of that. Discouraging patients from seeing their provider may discourage them from doing things to prevent other serious, chronic conditions, like diabetes, hypertension — even cancer.
Now is not the time to shut down your precision prevention services. In fact, they're just as important now as ever.
It is the perfect time to shift the models of delivering important preventative care to a virtual model. In this blog post we'll outline various ways CancerIQ clients have already done:
Virtual Genetic Counseling Strategies
Virtual High Risk Management & Early Detection Strategies
Virtual Family History Screening and Risk Assessment Strategies
In traditional settings, screenings are done on paper in the clinic prior to appointments. Patients' providers would review the personal and family health history and classify patients as elevated risk.
But if patients aren't coming into the clinics to begin with, we must change how screenings occur. A few weeks ago, when we said, "meet patients where they are" we meant in your practice. Now, we mean in their homes. Our clients have found four ways to be successful in this area.
Phone screenings - Staff members can proactively reach out to patients via phone and complete the risk assessment questionnaire with patients. At Sharp HealthCare in California, a genetics coordinator goes over the CancerIQ screening with patients on the phone as a convenient way of triaging a patient before they come in.
Email campaigns - Getting your marketing team involved is another way to enable virtual risk assessments. Using your organization's marketing email database, proactively email patients a genetic risk assessment questionnaire to get the word out via email to specific groups of patients. Hoag in California ran a successful campaign targeting women under 40. CancerIQ worked with the health system to brand the email and encourage women to complete screenings from the comfort of home.
Web marketing - Riverside Health Care, another CancerIQ client, has truly gone digital with its cancer risk screening program. They've integrated the full patient experience right on their program's website. The page tells patients about the importance of cancer screening and prevention and includes a direct link to the CancerIQ screening. That way, patients can start the genetic evaluation process immediately, and providers can see results in the CancerIQ portal as they roll in.
As part of a virtual visit - Adventist Health is including a custom URL per clinical location for patients to complete the screening questionnaire prior to their virtual visit. It is in the check list with appointment paperwork, and setting up tele-health software. This allows the provider to review the patient's risk within CancerIQ during appointment, have an informed consent conversation, and mail the patient a specimen kit to complete at home. This allows providers to continue to screen patients as part of routine preventative care.
Virtual Genetic Counseling Strategies
If patients are found to be high risk for cancer after their virtual assessment, they should see a genetic counselor. Genetic counseling and telemedicine are a great pair. Indeed, because of the existing shortage of genetic counselors nationwide, many health systems have already taken their genetic counseling programs virtual to spread the expertise across geographies.
Our clients generally use two business models for virtual genetic counseling.
Not billing for a consult, knowing visits support downstream revenue.
While the federal government and private payers have loosened rules on telemedicine to increase access during the COVID-19 outbreak, genetic counselors still cannot bill for telehealth visits independently.
One CancerIQ client — a system with locations across three states — has a completely virtual genetic counseling program and doesn't bill for consults. Instead, the system knows patients identified as high-risk will come to the system for MRIs, colonoscopies, and preventative surgeries down the line, boosting overall revenue.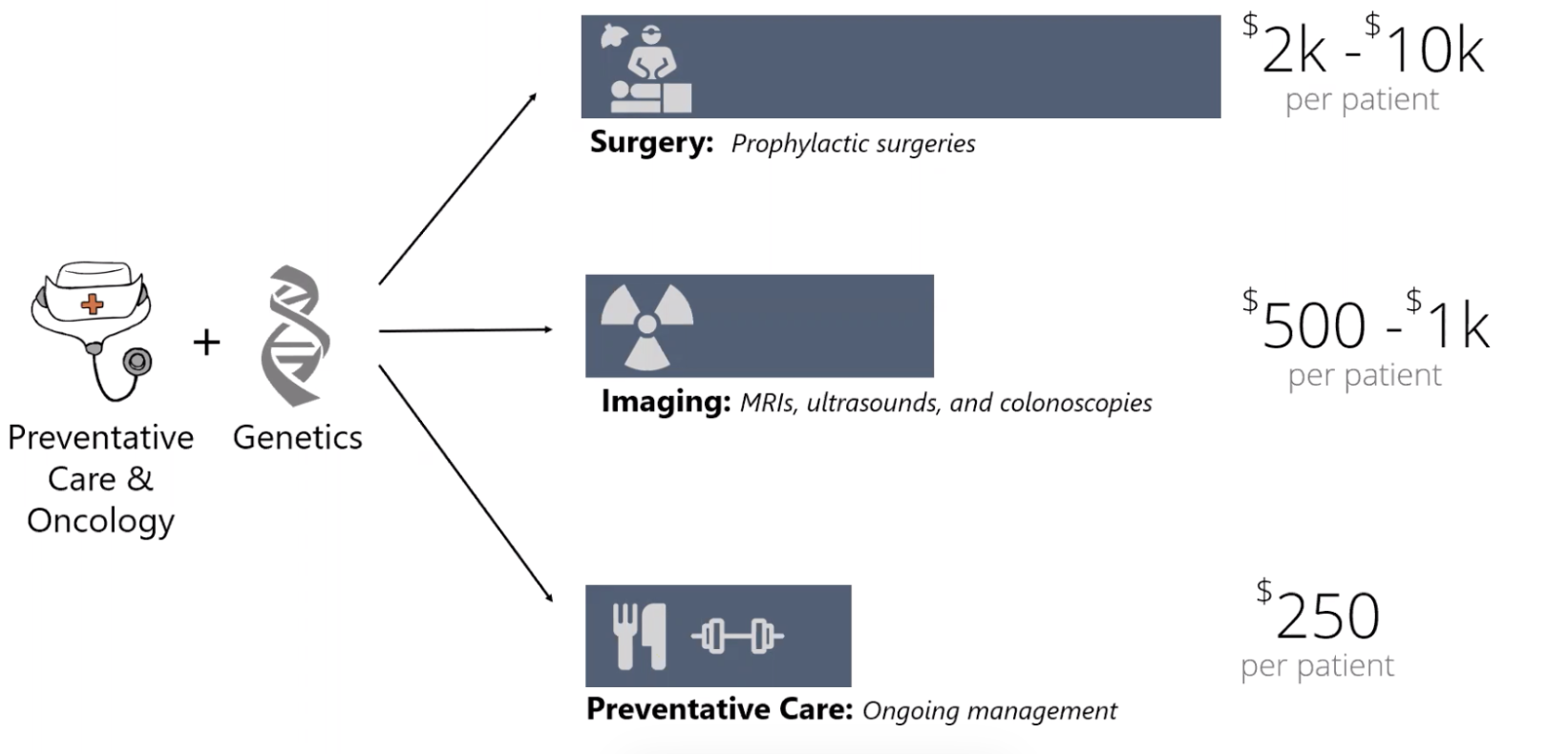 This business model also works in a value-based world. Offering a free genetic consult service can help stratify population risk and prioritize seeing patients before cancer presents itself — saving money and promoting overall wellbeing.
Billing for genetic consults using physicians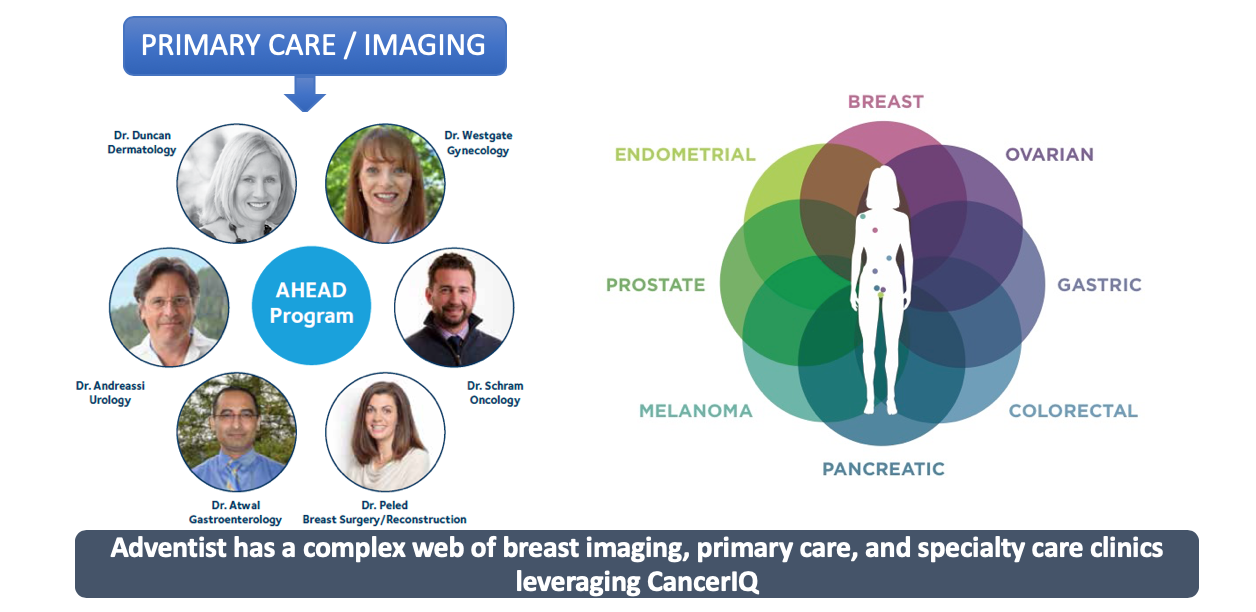 The historical gaps in access to certified genetic counselors led many nurse practitioners, OB-GYNs, oncologists and others to go through training on genetic cancer risk assessment.
Because these are providers with telehealth billing privileges, health systems can leverage them to offer genetic counseling sessions via telemedicine. Then, once it's safe to allow patients to come in for visits, these providers can continue managing these patients through their cancer prevention care plans.
The American Medical Association offers an excellent telemedicine implementation guide for physicians who are doing so for the first time. It covers everything from best practices for virtual visits to how to properly code and bill for the visit.
Virtual High Risk Management & Early Detection Strategies
Not having in-office visits can complicate managing patients in their cancer prevention journey. But CancerIQ clients have been doing this since before COVID-19 hit the U.S. Two strategies are the most popular:
Using a group of specialists to support primary care providers. The AHEAD program at Adventist Health has been doing this for years. The health system is spread out over a wide geography, including several rural areas. High-risk patients would have to drive far to see their doctors and talk through test results or next steps. To ease access to such care, high-risk patients are managed by a high-risk care team of specialists via virtual visits.
Enabling at-home cancer screening. Just as patients can see doctors from the comfort of their own home, companies now offer innovative ways for patients to do screening and collect samples from home as well. Cologuard, for example, allows patients to do at-home screenings for colon cancer. Health systems should leverage these offerings as appropriate, so they continue to catch cancer in early stages.

Looking Ahead
We want to make sure cancer prevention doesn't slow down because of this new infectious disease. COVID-19 may be forcing our hands to take high-risk cancer programs virtual more quickly than is comfortable. But our clients have been successful with this in the past; and as we rally together we know new and innovative virtual approaches to cancer prevention will come out of this period.
And we at CancerIQ are always here to support you.
If you are an existing CancerIQ client and want to learn more, contact Haibo Lu, VP of Product and Customer Success.
If you are a provider and would like to access the CancerIQ Specialist at no charge for the next 90 days, contact Kelly Hall, VP of Commercial Strategy
More Helpful Resources
http://www.caltrc.org/knoweldge-center/best-practices
https://www.aafp.org/patient-care/emergency/2019-coronavirus/telehealth.html
https://www.statnews.com/2020/03/26/genetic-counselors-coronavirus-medicare-teleheath/