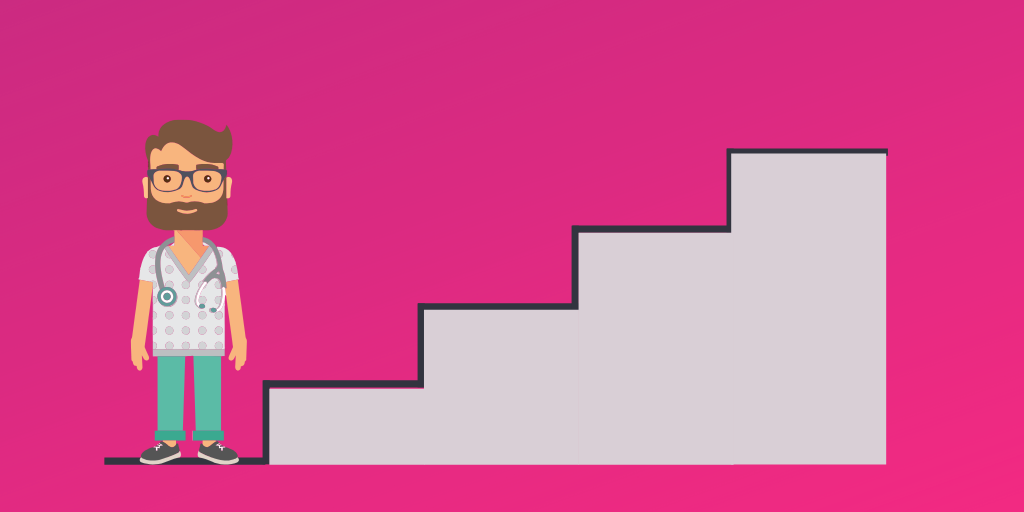 Breast imaging centers are a hub for screening and early detection. They play an important role in identifying high-risk patients prior to a cancer diagnosis.
We covered this in the first blog post of the series focused on breast imaging centers, cancer risk assessment, genetic counseling, and testing. We laid the foundation for why risk assessment is the standard of care, how breast centers should begin implementing the service, and three ways to bring in genetics expertise.
Now that we understand why these services are crucial to breast imaging centers, we take a deeper dive into how to start your high-risk program in eight steps.
1. Conduct a Needs Assessment
Conduct a prevalence study to understand how many high-risk patients are in your population. The study will help you better understanding how many of your patients are at increased or high risk for hereditary breast and ovarian cancer, how many of your patients are potentially interested in undergoing genetic counseling and testing, and what high-risk services (e.g., MRI, surgeons) are needed to manage those patients over time.
2. Evaluate Your Current Resources
Take a holistic look at the patient journey to better understand if you can meet the need for risk assessment and genetic services with your current resources. Start by outlining the process for:
Flagging all your high-risk patients

Ensuring those patients get through to genetic counseling

Managing your high-risk patients appropriately over time.
3. Build Your Business Case
Identify the cost of all the necessary resources to meet the need for risk assessment and genetic services. Next, look at the direct and downstream revenue that can come from the program. For example, you can measure short-term revenue by looking beyond the initial genetic consultation appointment at new opportunities (for example: increased MRI surveillance and preventive services like prophylactic surgeries or chemo-prevention). Long-term, you can calculate the averted or reduced costs associated with future and subsequent cancers prevented. Beyond those measures, your business case might include how your high-risk program aligns with your institution's overall goals.
For example, at the Association of Cancer Executive's (ACE) 25th Annual Meeting, 2019, Teresa Heckel from Sarah Cannon - the Cancer Institute of HCA - highlighted the following health system-wide business benefits to having a high-risk program:
Increased volumes with supplemental screenings, visits, and interventions

Associated increased revenue

Reducing leakage - due to navigation and genetic counseling

Opportunity to differentiate your program in your market

Enhanced relationships with referring providers

Ability to meet NAPBC and CoC risk assessment and genetics standards
4. Socialize With Your Teams
Your staff should know the "why" behind implementing a high-risk program. Through clinical training and communication training, each team member will be better positioned to help manage patients throughout the process. In a 2011 report, Weitzel et al suggest that a multi-disciplinary team model will become increasingly important to delivering a more comprehensive hereditary cancer risk management.
For example, the breast imaging navigator/coordinator - typically filled by a registered nurse (RN) or mammography technician - plays a critical role in a high-risk program, shared Heckel in her ACE 2019 presentation. In order to best fulfill the role the navigator must:
Facilitate all high-risk program activities within the center

Educate patients regarding risk results

Communicate with patients and providers

Facilitate appropriate referrals

Help ensure patients don't fall through the cracks
5. Socialize With Your Referring Physicians
Your referring physicians need to see the need for cancer risk assessment, genetic counseling, and genetic testing. Start by providing a clinical brief that explains the importance of a high-risk program. Luckily, the U.S. Preventive Services Task Force (USPSTF) supports the need for high-risk programs, making your task easier.
Next, understand your referring physicians' preference for managing high-risk patients. You might use a simple opt out letter to understand if a physician wants to manage a high-risk patient or not.
6. Test Your Business Case
While you wait for budget and the necessary approvals, you can strengthen your business case by testing the full process on a small scale. For instance, continue screening patients with a paper family history questionnaire or a simple digital tool. Instead of hiring a full time FTE genetic specialist to consult with your high-risk patients, you can use telehealth genetic counseling services. As you move forward, ensure you are tracking everything, even if it's in a spread sheet. Track the number of high-risk patients who see and don't see a genetic counselor; track how many genetic tests are ordered; track the number of positive and negative mutation carriers and the resulting medical management changes.
7. Identify Areas for Improvement
From what we've learned from converting clients from paper to software, here are five common pitfalls:
Identification: Using paper intake forms to flag high-risk patients may be the easiest way to start screening today, but paper can be cumbersome and error-prone. Upgrading your screening process with a digital risk assessment tool can help simplify the screening process, provide immediate determination of patient risk, and reduce stress levels for your staff. Here's a look at what one genetics-trained nurse practitioner saw when their breast center moved from paper to software.
Related webinar: Moving from Paper to Software to Better Identify High-Risk Patients
Risk Communication: When communicating to patients about genetics, two common challenges exist: (1) When staff communicate cancer risk to patients, it can create unintended anxiety in the patient; and (2) because systems may not want staff saying anything at all to the patient, providers rely on the mammography report to communicate the cancer risk to the patient - a report that isn't received until weeks down the road. To overcome these challenges, one breast center used analytics to identify quality gaps in communication performance and coached the mammography techs on how to better communicate genetic services to patients. In doing so, the breast center increased enrollment in their high-risk clinic by nearly 4x.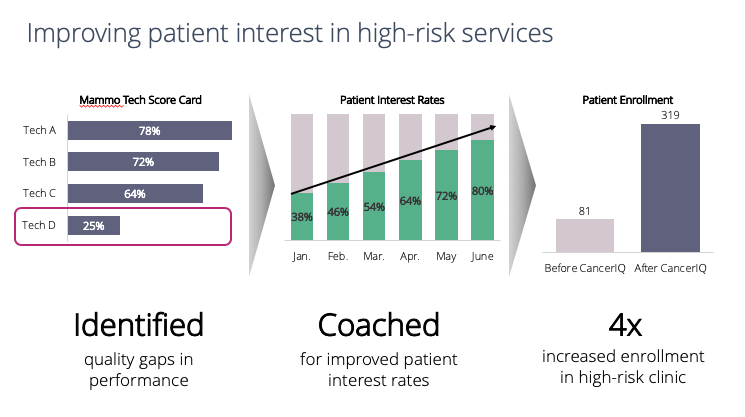 Referral pathway to genetics: The more barriers between your patients and genetic counseling, the lower uptake of services you will likely have. In our experience within breast imaging centers across the country, we've found that when genetic counseling and testing are completed at the point of care, patient compliance is at its highest.
Wait times for genetic counseling: With fewer than 700 cancer-specific genetic counselors nationwide, there is a shortage of genetics expertise. This can lead to long wait times. One way to mitigate the issues that arise from limited genetics resources is to use genetic counselor extenders, genetics-trained providers, or telehealth genetic counseling services.
Patient management: When managing patients the manual way, it is hard to get patients to comply with recommendations for a disease they don't feel any symptoms for. As such, patient compliance can be low without a proactive provider. Find ways for stronger patient engagement like educational resources from patient advocacy groups.
8. Phase in Software
Digital risk assessment and patient management tools are a best practice to fully optimize your high-risk program. Where should you start, though? Here is a brief overview of how to go from a standalone software to fully integrating into your electronic medical records (EMR):
Start your risk assessment without EMR integration - By implementing a cloud-based solution without an initial EMR integration, you can impact your patients immediately.
Make a clinical and financial case for integration - Because integration may require major internal IT resources, your software request will be prioritized amongst a queue of other projects. Therefore, it's critical to have the clinical and financial justification to make your technology requests a priority.
Design an EMR interface you'll actually use - IT teams are generally understaffed; therefore, you want to know what you are building before you build it. Start with a standalone digital risk assessment tool to help you identify the right way to integrate with the EMR, map out the correct workflow, and see how users use the system.
Related article: How Providers are Leveraging Technology to Meet the New USPSTF BRCA Recommendations
Learn More
Interested in a deeper exploration into best practices for building an effective high-risk program? We recently covered this topic in a recent webinar series. Download the recording to learn more.