COVID-19 has not stopped cancer, but it has made it more difficult to detect cancer early.
Stay-at-home orders put in place to flatten the COVID-19 curve have had unintended consequences on cancer screening and detection rates. Data from 270 oncology practices, compiled by Flatiron Health and published in The Cancer Letter, show a nearly 40% drop in visits from new patients per week, and cancellations and no-shows were up 80%.
CancerIQ clients saw similar patterns — the number of diagnostic tests like mammograms, Pap smears and colonoscopies performed saw a severe decline.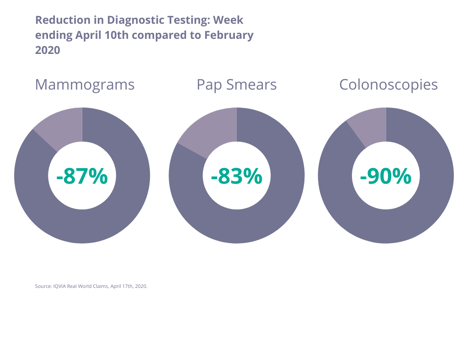 This puts patients at risk. Limiting access to care might reduce the risk of contracting the novel coronavirus, but at the same time increases the risk of spiking late-stage cancer diagnoses and halting current care plans for those already diagnosed. Both lead to poor patient outcomes and increase the cost of care.
While we flattened the curve for COVID-19 cases, the curve in late-stage cancer diagnoses will slope dramatically upward. At the same time, health systems are facing dramatic financial losses due to decreases in patient volumes stemming from COVID-19 restrictions.
We need to come together to keep cancer patients safe from both COVID-19 and the long-term impact of now declining cancer prevention initiatives and cancer care.
In this blog post, the CancerIQ team is asking that our nation's health systems not disregard funding cancer prevention programs, especially virtual or telehealth versions of those programs. We'll also discuss the FCC COVID-19 Telehealth Program, how to apply, and ensure the funding is appropriated as directed (to kick-start programs that address other serious illnesses).
Prioritize virtual cancer prevention
Though hospitals are facing financial difficulty, they should not uniformly exclude cancer genetic screening from telehealth programs.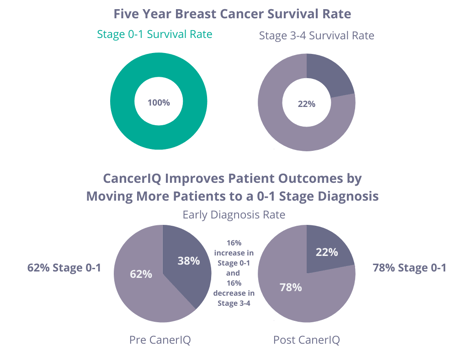 These virtual programs are vital to patient safety, as patient outcomes — including survival rates and quality of life — improve significantly when cancer risk is detected early.
Additionally, catching cancer early reduces cost of treatment. The cost of treating later stage cancer goes up by 109% from stage 1-4, and early detection reduces the cost of treatment significantly (two to four times less costly than later stages).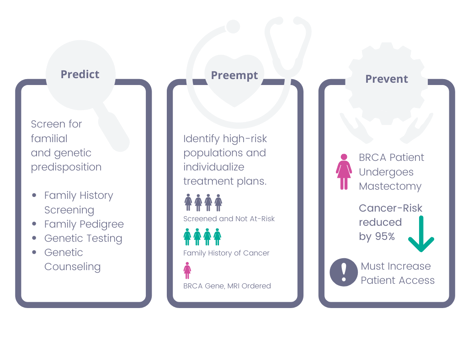 Healthcare systems can turn to labs and software companies that have positioned their offerings to deliver remote genetic screening for help. Nearly all of the commercial testing labs offering hereditary genetic tests have enabled remote testing to send saliva testing kits directly to patients. And CancerIQ is designed to make the identification of appropriate patients for genetic testing easier and facilitate patient education and engagement, while also assisting physician's coordinated care and patient compliance.
CancerIQ customer, Adventist Health Handford Breast Center, was experiencing a sharp decline in the number of patients screened for cancer immediately after a shelter-in-place order was enacted. The Breast Center teamed up with CancerIQ and a virtual screening program was implemented in two weeks' time. The number of patients screened immediately increased.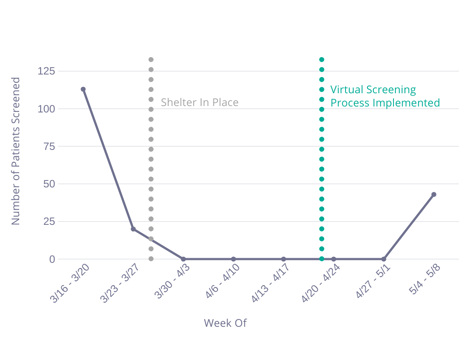 Apply for funding
As shown above, virtual screening and high-risk cancer programs can improve patient safety and reduce costs. But applications to receive funding for COVID-19-related telehealth measures from the federal government confirm a cancer blind spot.
The CARES Act established $200 million in funding for the COVID-19 Telehealth Program. The funds, which require approval from the Federal Communications Commission (FCC), go to help healthcare providers serve patients virtually.
Almost none of the programs that have been awarded money from the FCC address cancer-related risk.
Approved funding has been narrow in scope not because the FCC is restrictive, but because health systems need to more strategically apply for broader use cases and focus on cancer risk management and care as an effort to keep their patients safe.
There is still $150,000,000 left to be awarded.
A Call for Change
The time to prioritize cancer is now. Screening, genetic testing and preventative care are not a nice-to-have, these measures necessary for patient safety.
Applications to support cancer prevention have been submitted with the intent to keep cancer patients safe and help at-risk populations gain access to care. The FCC needs to review those applications and take action.
For organizations who have applied and not hit the $1,000,000 in funding: apply again and work with a partner to submit who has completed the application before and can advise on strategy.
For organizations who have not applied: there is plenty of time and assistance to help you apply. The impact of applying and funding cancer screening, testing, and management is beneficial for both your patients and your organization.
A COVID-19 vaccination is still far off. Mitigating hereditary risk is an ideal strategy to attenuate later-stage diagnoses that place patients at risk for more serious COVID-19 related consequences.
CancerIQ is helping many leading academic and community systems in the hardest affected areas apply for reimbursements in an effort to hasten the submission process, and reduce the clerical lift for systems already strained for time. We can help quickly and effectively launch virtual programs. Reach out to us today for assistance.
Download our Telehealth Toolkit for additional information.
To speak to someone at CancerIQ for application assistance and to quickly launch a virtual program, contact: kelly@canceriq.com