Guest post by:
Rob Jennetten
Consultant
Former Director of Innovation Partnerships at OSF Healthcare System

Digital health innovation is not the product of perfection. It's messy, gritty, iterative, and most importantly, it takes place across the healthcare ecosystem—across vendors, platforms, technologies, and specialties.

Indeed, it's that kind of diversity that feeds into innovative ideas. It makes them more competitive and of better service to both patients and providers.

And yet, too often, healthcare systems place all their eggs in a single basket instead of diversifying their solutions mix. Providers have options for EHRs, patient engagement, patient retention and data management solutions. Single sourcing their technology decisions, just because a company has a "best of breed" and "industry-leading" solution, doesn't mean it's the best fit for an organization.

One size does not fit all.

With a rapidly-changing environment, including a COVID-19 second wave and vaccine distribution challenges, the time to innovate is now.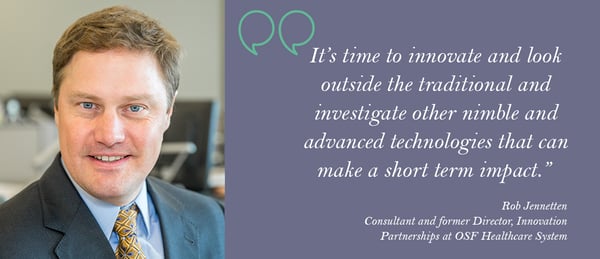 Partnering with Individual Problem Solvers
The way I see it, the health systems that make diversity in technology their differentiator will be most poised to succeed in an industry already fraught with financial pressures. And to be clear, integration and interoperability matter. Having solutions that seamlessly work with the EMR improves care quality and the patient experience while mitigating clinician burnout.

But what I'd wager to add is this: not all of those solutions have to, or should, come from the same source. In fact, given all the specialty-specific problems, workflows, and datasets involved across the care continuum, there's not ever going to be one panacea that can solve all.

In my years evaluating hundreds of healthcare innovators, here is my advice for innovators:
Focusing on workflows alone is not enough
Prioritize solutions with the content, analytics, and usability to improve outcomes
Find solutions that fit your strategy and enhance your digital offerings
And while EHR partnerships are critically important to healthcare providers, it's time to innovate and look outside the traditional and investigate other nimble and advanced technologies that can make a short term impact.

When you have the opportunity to use something built from scratch, from the ground up, it inherently creates avenues for more standalone diversity and innovation in our new modern era. Partnering with passionate individuals with a drive to innovate for individual problems can make magic. Piece-mealing that magic together for the good of patient care is a tall ask, but it's what makes stronger, more resilient healthcare.

Take CancerIQ, for example. The independent platform augments genetic counseling programs of some of the country's top-tier cancer clinics. With an all-in-one dashboard that aids in risk stratification, workflow automation, and marketing, it offers something uniquely powerful and specific.

But it's still integrated into the EHR for a more seamless experience for all users involved. That matters now more than ever. With cancer screening rates down amid COVID-19, many practices need something nimble enough to launch quickly but also robust enough to functionally fit into Epic or Cerner. For the hundreds of systems that use CancerIQ services, the platform is ideal.

Even for small innovative companies, positioning their solutions to enhance large EHR's is a doable thing. For example, companies like InsightRx and ePharmix are both additional examples of forward-thinking organizations that have done a really good job of meaningful integrations and enhancing the digital offerings that health systems are able to provide.
Building Unique Digital Experiences
Health systems must build unique digital and patient experiences in order for them to remain relevant and to differentiate from their competitors. I firmly believe that the more you can build into the digital ecosystem for both clinicians and patients, the better. But just bolting together a tall digital stack isn't enough. It's incumbent on individual health systems to create their unique digital experience—not an EHR experience, or a CancerIQ experience, or even an EHR+ CancerIQ experience.

Many things have to happen to make that a reality, with the most critical being IT strategy: health systems need a well-oiled innovation and interoperability plan that makes the most of the vast network of technologies for a product that feels like a single and immersive experience to end-users.

Speed is also crucial: Healthcare innovation happens quickly, but the traditional pace of the sector hasn't always caught up. And yet, if COVID-19 has taught us anything, it's that we need to be able to move at a moment's notice and also have an appetite for failure. Explore and test out new products as they get released and learn to pivot when needed.

Do all this, and you're more equipped and likely to arrive at a customized and white-labeled experience that's reflective of your patient population, business strategy, market, and other individual factors. Best of all, that diverse but integrated experience won't be something that the other clinic down the street is able to offer.