Today kicks off the National Society of Genetic Counselors Annual Conference in Chicago, and we are so excited at CancerIQ to welcome the incredible genetic counseling community to our hometown!

Genetic counselors have been core to CancerIQ's mission since Day One. That's because the more we expand access to cancer risk assessment and genetic testing, the more we need genetic counselors to help patients understand their results and take action to get ahead of cancer.

Since last year's NSGC meeting, we have been hard at work investing in the GC community. Here's a look at what we've been up to:

First, we've improved the genetics workflow. CancerIQ's product team, led by Kabir Gulati and Makenzie Huslig, relaunched our pedigree with new features to align with the latest NSGC recommendations for Standardized Pedigree Nomenclature, added more detailed family history collection tools, incorporated customer feedback and improved overall usability. Genetic counselors can now deidentify their pedigree and take advantage of our bulk edit feature. And we've also improved the genetics workflow by adding more ways for users to filter their dashboard and pull important patient stats.

Second, we've invested in research at the highest levels of our organization. Our Chief Data Officer and cofounder Haibo Lu has been spearheading efforts to make our library of data one of the most robust in the industry. Alongside Dr. Catharine Wang, we also coauthored a peer-reviewed study that shows mainstreaming pre-test counseling can help genetic counselors — a precious resource in so many health systems — focus on seeing more patients with elevated risk of cancer. Dr. Wang will present on these findings at the conference this Thursday at 11:00 AM.

Lastly, to build on these findings and make it possible for every practice to set up point-of-care genetic counseling, we partnered with Dena Goldberg, MS, LCGC to create pre-visit educational content, so patients' first exposure to genetics comes directly from a certified genetic counselor. Our goal is to prime patients with the basics, so genetic counselors can focus on what they do best — counseling patients.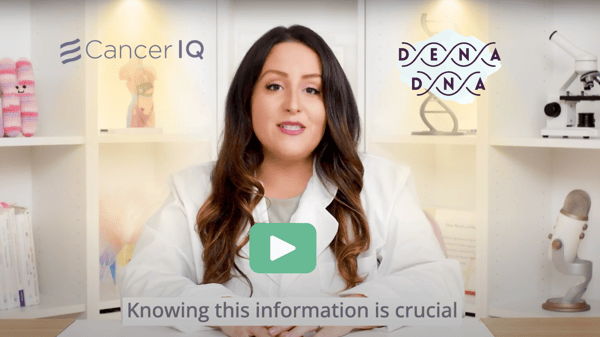 All in all, we can't wait to see you at #NSGC2023! Swing by Booth 604 to say hello and join us tonight at our headquarters for a reception featuring Dena Goldberg herself. You'll have a chance to see our brand-new, pre-visit patient education videos.

More info: https://lnkd.in/gi9wvh6k