2021 prompted us to define the "new normal" in every facet of our lives, and cancer care was no exception. Looking back, "prevention" and "early detection" were the words on everyone's lips. This marks the year in which the nation recognized precision prevention's potential for all people, particularly as new discoveries and innovations promise to propel medicine forward — ahead of cancer.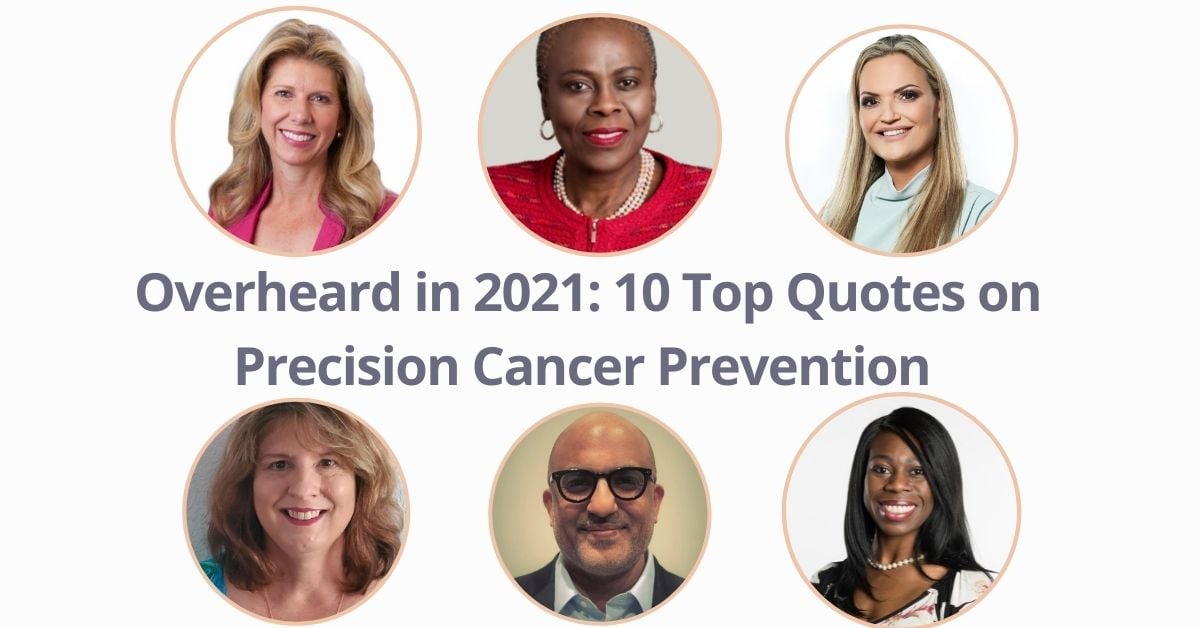 Here are 10 standout statements from 2021 on the future of cancer care:

1. "This long-term goal — precision prevention — can end cancer as we know it by preventing suffering and death for those at risk and by helping those not at risk avoid unnecessary tests and treatments."

—

National Cancer Institute



NCI called out precision prevention as a key investment in its Annual Plan & Budget Proposal for Fiscal Year 2023. The institute is investing in research to gain a better understanding of how inherited and non-inherited genetic mutations interact with behavioral and environmental factors, with the goal of supporting targeted prevention efforts.

2. "One of the most promising things I see in virtual oncology care is that it can truly make services more equitable and accessible." —

Feyi Olopade Ayodele, co-founder and chief executive officer, CancerIQ



As our CEO Feyi Olopade Ayodele addressed in her panel on telehealth policy at the ACCC 47th Annual Meeting & Cancer Center Business Summit, this year proved the potential for virtual preventive oncology to be more than just a stop-gap measure for the pandemic, but to be a foundational part of equitable cancer screening and prevention going forward.

3. "Ultimately we hope that this [vaccine] can be one more tool that we have to prevent breast cancer because prevention is much better than trying to treat a disease with the treatments we have available now." — Thomas Budd, MD, principal investigator in the Phase I clinical trial for a breast cancer vaccine

In October, hematologist oncologist Dr. Thomas Budd joined the "Cleveland Clinic Health Essentials Podcast" to discuss a breast cancer vaccine that is now being tested in the first patients. Dr. Budd spoke about the potential of a vaccine for triple-negative breast cancer patients, who are more commonly young, Black and/or Hispanic, and carry a BRCA1 mutation.


4. "We are going to move from diagnosis — 'You have this disease' — to prediction — 'You are going to get this disease, and here is how we can stop it from ever occurring.' These efforts will be aided by the type of medical scanning we first saw on Star Trek — science fiction then, but closer to reality with each passing day." — Dana Zanone, MD, former vice president and health informatics officer, Adventist Health

In an open letter to population health vendors, Dr. Dana Zanone recalls just how far health IT has come since she began her career in medicine — from the early days of sequencing genetic code to now offering a seamless, automated program that ensures every adult patient at Adventist Health has access to personalized cancer screenings.



5. "Primary care practitioners are responsible for multiple quality, maintenance and preventative care measures, and cancer is the one where we have the potential to make the most impact." — Rakhal Reddy, MD, system medical director of health informatics, Adventist Health

Dr. Rakhal Reddy discussed the importance of making precision prevention tools easy for providers to use. Data presented at HIMSS21 revealed that the health system's integrated precision prevention tools helped drive a five-fold increase in cancer screening and engage nearly nine times more patients in preventive care management.

6. "We see a day where people are screened with a simple blood draw for many cancers … That dream is closer to reality than I think any of us fully appreciate." — Kevin Conroy, president and CEO, Exact Sciences

In an interview with Katie Couric, Exact Sciences CEO Kevin Conroy laid out his vision for the company's liquid biopsy test to push cancer detection to the earliest possible stage — preventing the need for intensive treatment.

7. "Really hardly any of the cancer genes predisposes to only one cancer, and several of them, even the ones you associate with the most sex-specific conditions like prostate cancer or breast cancer or ovarian cancer, may have implications for the other gender." — Judy Garber, MD, MPH, chief of the division for cancer genetics and prevention, Dana-Farber Cancer Institute

Dr. Judy Garber told TODAY that recognition of genes with links to multiple cancers is growing, underscoring the importance of learning family health history, and if indicated, undergoing genetic testing to get a better understanding of cancer risk and mapping out targeted prevention pathways.

8. "Patients at high risk of breast cancer are commonly at risk for other types of cancer, too. … Our point-of-care program transformed the way we stratify risk and manage patient care — driving an increase in screening for eight types of cancer, even as our small town weathered the pandemic, two hurricanes, a freeze and flooding." — Alice Prestia, MD, obstetrician-gynecologist, CHRISTUS Ochsner Lake Area Hospital

Dr. Prestia explained during the Advisory Board's Cancer Screening Innovation Showcase that family risk assessments can help health systems prioritize patients for genetic testing — no matter what the "new normal" looks like. Ochsner developed a high-risk breast program with full-panel genetic testing to ensure patients across the spectrum of risk are engaged in the appropriate preventive care.

9. "The real magic sauce is when we are going to be able to start pushing even more upstream and start focusing on prevention. We all know that our genes aren't necessarily our fate." — Teresa Heckel, oncology project director, Sarah Cannon Research Institute

In a roundtable on the future of high-risk breast programs, Theresa Heckel discussed a near future where primary care providers have the tools to screen patients for cancer risk and help manage prevention.


10. "I am all about 'genetic justice' and believe that advances in science should benefit all in society." — Olufunmilayo Olopade, MD, Walter L. Palmer Distinguished Service Professor at the Center for Clinical Cancer Genetics & Global Health, The University of Chicago

In her inspiring William L. McGuire Award Lecture at the 2021 San Antonio Breast Cancer Symposium, CancerIQ co-founder Dr. Olufunmilayo Olopade called for better models for risk assessment and broader access to precision prevention to improve outcomes for all patients, no matter who they are or where they live.

What moments do you think defined cancer prevention in 2021? Share with us on Twitter, Facebook, and LinkedIn.

~~~~~~~~~~~~~

Ready to make the business case for expanding your program in 2022?


Our newest ebook offers a roadmap for optimizing high-risk breast programs for better clinical and financial outcomes.