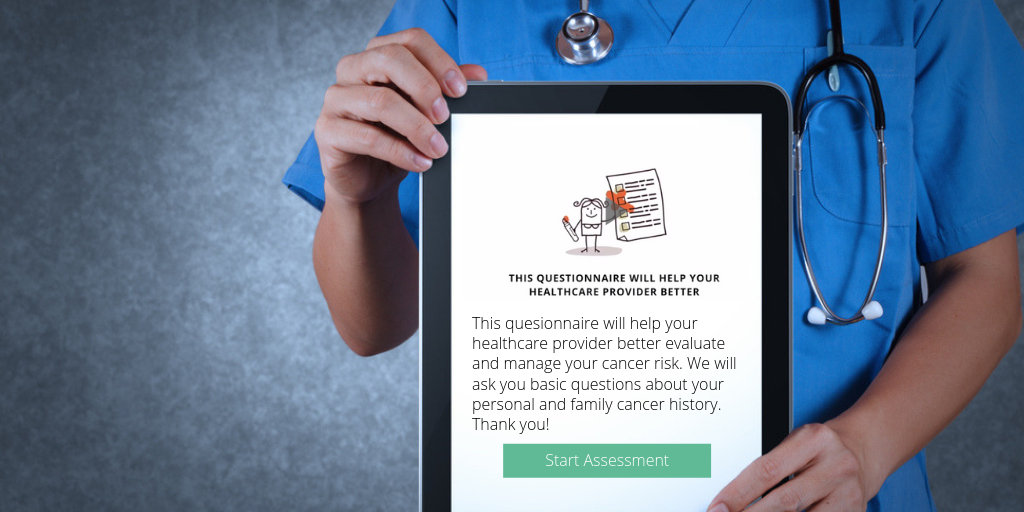 There are over 157 million women in the United States. About 12% of these women will develop invasive breast cancer, according to the CDC. That's over 18 million women who will likely be diagnosed with cancer in their lifetime.
Within that group, nearly 10 percent can be linked to harmful gene mutations that are inherited (BRCA1 and BRCA2 mutations being the most common). And that's over 1.8 million new diagnoses.
Breast imaging centers are a hub for cancer screening and early detection, but many of these mutation carriers aren't discovered until it is too late.
So what role can a breast center play?
Look no further than professional society guidelines:
The American Cancer Society recommends women who are at high risk for breast cancer should get an MRI and a mammogram every year, typically starting at age 30.
The American College of Radiology (ACR) and Society of Breast Imaging (SBI) recommend all women have a risk assessment at age 30 to see if screening earlier than age 40 is needed.
The U.S. Preventive Services Task Force (USPSTF) recommends women with a family history of cancer begin mammogram screenings at age 40. For everyone else, risk assessment is a key factor in the overall mammography debate.
And beyond being the standard of care, risk assessment has a number of clinical and financial benefits. For instance, it:
Providing Risk Assessment for Every Patient
If risk assessment is going to be the standard of care that every patient receives, how should breast imaging centers implement the service?
Screen: A common practice includes, first, collecting a patient's family history on a paper form when they first arrive.
Flag: Gathering family history information is only the beginning of the risk assessment process. To make sure you are capturing all patients at risk, make sure there is a streamlined way of flagging patients who meet National Comprehensive Cancer Network (NCCN) criteria for referral to genetics.
Communicate risk: It is important to share these risk results with patients and providers in a way that will actually drive the desired outcomes. Many breast centers make the mistake of thinking a Tyrer-Cuzick score at the bottom of a mammo report will lead to more breast MRIs, and it doesn't. Without means of communicating with providers and patients in a timely manner, very few patients will act.
Navigate: in the same way newly diagnosed patients are navigated to the appropriate surgical and medical services needed to treat cancer, high-risk patients have a need for navigation to the appropriate services to prevent cancer. If the patient is interested, typically they are referred out to a genetic counselor off site.
To carry out the process of screening, flagging, communicating risk, and navigating high-risk patients, risk assessment programs typically use one of the three models: (1) the referral model, (2) point of care scheduling model, and (3) point of care service model. Depending on which model your program uses, it can impact the uptake of genetic services and patient compliance.
The referral model is when patients are screened and referred out to a genetic specialist. This creates many barriers for the patient to get through, and it can negatively impact uptake of genetic services.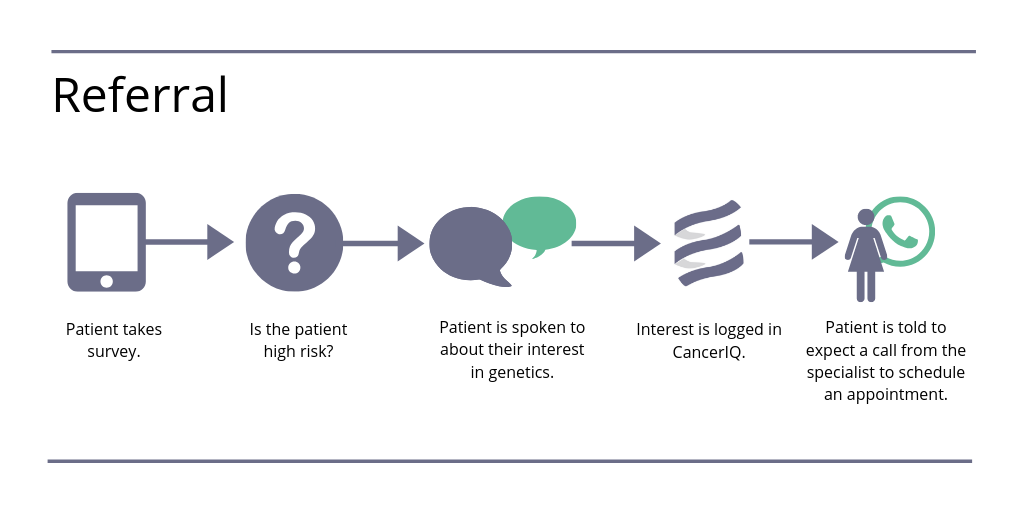 The point of care scheduling model is when high-risk patients schedule an appoint with the genetic specialist prior to leaving the facility. In this model, there is far less staff time spent following up with the patient, and the patient is one step closer to an appointment.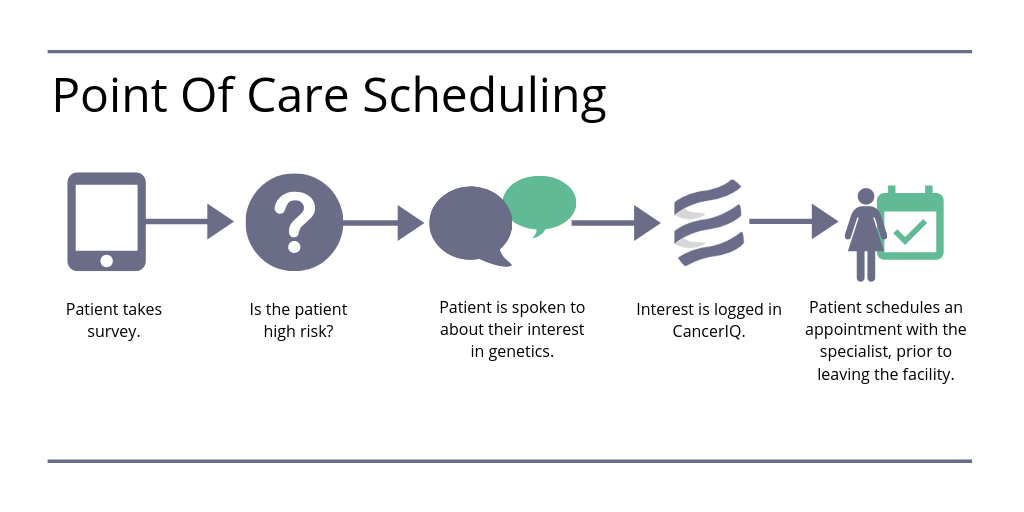 The point of care service model is when a patient who is identified as high risk is given immediate access to a pre-test counseling encounter. Based on the work we've done at more than 40 health systems across the country, we found that patient compliance for genetic counseling and genetic testing is highest when completed at the point of care, compared to when patients are referred out to a genetic counselor.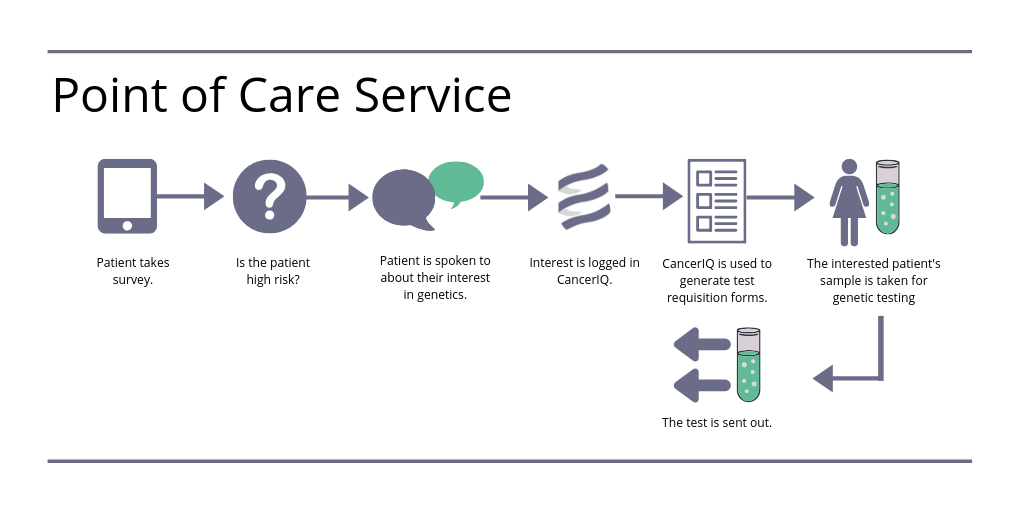 I cover more of these implementation models and best practices in greater depth in a recent blog titled: How to Scale Your Cancer Risk Assessment Program Across the Health System.
Bringing Genetic Expertise into Breast Imaging Settings
Breast imaging centers are operationally complex, with patients each being scheduled for 15-30 minute time slots. Even though point-of-care service would be ideal, most breast centers are missing the necessary in-house genetics expertise.
And with fewer than 700 practicing cancer genetic counselors nationwide, genetics resources are limited. Health systems in rural communities, for example, may not have access to genetic counseling resources at all, given their geographic location. But even if a health system has a genetic counselor, that single resource could have a patient backlog that lasts months or years.
Given the shortage, there are three ways breast imaging centers can successfully implement genetic counseling and testing at the point of care:
Genetic counselor extenders: Genetics-trained nurses can help increase access to genetic services by delivering pre-test education and counseling, and by determining if their patients are high-risk, similar to the example highlighted in this Oncology Nurse News interview

. For high-risk patients, nurses can recommend genetic testing.

Genetic-trained providers: In some sites, the role of genetic counselor extender can be filled by the radiologist in a breast center, an oncologist, or a breast surgeon. These physicians can provide pre-test counseling and education, as well as order genetic tests and manage follow-up care.
Telehealth genetic counseling: Some health systems are turning to an innovative genetic services model

that combines digital risk assessment and patient management with telehealth genetic counseling services. In doing so, providers can supplement their existing genetic counseling team, or use as a full-service solution in areas where genetic counseling resources are limited.
Learn More
Interested in a deeper exploration into best practices for building an effective risk assessment and genetics program? We recently covered this topic in a recent webinar series. Download the recording to learn more.