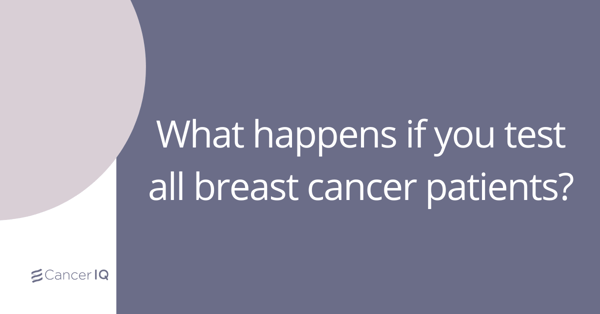 National Comprehensive Cancer Network (NCCN) guidelines for genetic testing should be updated, suggests a 2018 study published in the Journal of Oncology.
Genetic testing guidelines for breast cancer patients should be expanded so healthcare providers can ensure their patients receive the best treatments available. For example, the FDA recently approved the PARP inhibitor olaparib, or Lynparza, for patients with high-risk, early-stage breast cancer. In patients with BRCA-mutated, HER2-negative disease, olaparib reduces the risk of death by 32% and improves disease-free survival rates by over 40%. That means knowing a patient's BRCA status could save their life.
But as National Comprehensive Cancer Network (NCCN) guidelines stand, many patients would fall through the cracks, according to a recent review of national criteria for genetic testing, presented at the 2022 NCCN Annual Conference.
The review looked at 1,480 breast cancer patients assessed with both NCCN and American Society of Breast Surgeons (ASBrS) guidelines for germline testing. The authors found more than a third of those patients met ASBrS, but not NCCN, criteria for testing. And among patients who only met ASBrS criteria, 13.8% had germline mutations, including BRCA2 mutations. That means breast centers or oncology practices that follow NCCN guidelines alone could be missing critical information for patient care.

The implications of this new treatment raises the question: What would happen if the NCCN genetic guidelines were broadened?
The increased volume of genetic tests would yield a new issue; it would create a wave of information that would require more stringent use of medical management guidelines. As such, providers will need better tools to properly manage their patients.
How Software Can Make Genetics Easy
The need to use genetic lab results responsibly already exists, and it will continue to grow if the guidelines were widened or relaxed.
For example, research led by Allison Kurian, MD, of Stanford University found that physicians often treated newly diagnosed breast cancer patients with variants of unknown significance (VUS) similar to patients with mutations known to increase a woman's risk.
Herein lays the need to equip providers with a tool that provides clinical guidance consistently across all patients—and at scale. And this is where software solutions like CancerIQ fit in.
By embedding the latest NCCN Medical Management criteria into the EHR, providers no longer need to manually refer to complex decision trees that can change throughout the year. This makes it easier for providers to understand the meaning of their patients' test results based on the latest evidence-based guidelines.
Here are two examples how CancerIQ software provides clinical guidance that helps physicians interpret genetic test results:
A female patient with a pathogenic BRCA1 mutation and HER2-negative disease would be flagged, and based on the holistic patient profile, CancerIQ would make recommendations for breast-related care plans and gynecologic care plans. This might include chemotherapy, surgery and adjuvant therapy with olaparib, for example.
A female patient with a BRCA2 VUS would not be recommended to undergo a prophylactic mastectomy or oophorectomy. Since CancerIQ takes into account the entire patient profile (not just the lab results), it would inform the physician if the patient meets criteria for an MRI (Tyrer Cuzick Lifetime), tamoxifen (Gail 5-YR) or additional guideline recommendations.
By giving providers the tools to use genetic information more comprehensively, patient outcomes should improve. In the case of breast cancer, it can ensure high-risk women are receiving the most up-to-date care plans, while also eliminating overtreatment in lower risk patients. Likewise, it should help increase the number of women who take action on their elevated ovarian cancer risk.
Curious how software—like CancerIQ—could help you and your health system manage patients smarter based on their genetic risk factors? Schedule a complimentary demo and connect with us.