Last week, the President's Cancer Panel titled Improving Resilience and Equity in Cancer Screening: Lessons from COVID-19 and Beyond was held over two days via conference call.

This series of discussions brings the country's top experts together to focus on screening across four cancer types: cervical, breast, lung and colorectal cancers. The panel's goal is to explore specific issues deemed critical to the National Cancer Program and develop strategies to accelerate improvements in cancer screening.

In fact, according to an Advisory Board article, cancer diagnoses are down nearly 50% during COVID. Andrew Wagner, an oncologist at the Dana-Farber Cancer Institute, said he "wasn't shocked by the results of the study, saying it reflected patients' risk-benefit analysis when gauging whether to be screened for cancer during an infectious disease epidemic. However, now that hospitals have safety measures in place, Wagner said patients should start getting screened." Read the full report here.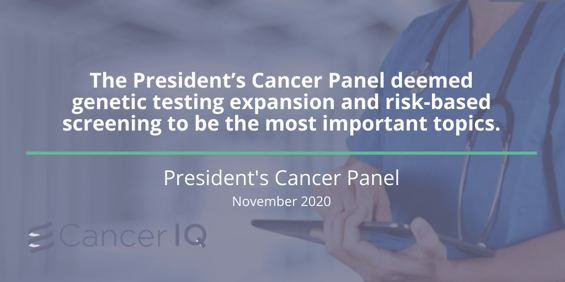 The stakeholders who participated on this call were national clinical experts in radiology, breast imaging, genetics and global health. In addition, CEOs and other senior leaders from health systems, EHR companies, the American Cancer Society, and leading research universities—many of whom work with CancerIQ—also played a role in the proceedings. CancerIQ's own Feyi Olopade Ayodele (CEO), a leader in cancer screening technology, also participated in the call as a member of the public.

Based on the pre-conference surveys and input provided by the working groups of these leading cancer experts, the most important topics they wanted to address and seek solutions for, included (in order of importance):
Genetic testing expansion and risk-based screening
Equity in screening – limiting disparities in screening
The alignment and consolidation of multiple screening guidelines
Changing the perception of screening from one-time events to episodes of care
The President's Cancer Panel deemed genetic testing expansion and risk-based screening to be the most important topics. We could not agree more, and we are grateful to be able to participate in this discussion.
As you focus on family at this time of year, Thanksgiving Day is not only a time to virtually gather with loved ones but it's also National Family Health History Day - a time to talk about your family's health.
We hope you enjoy your holiday and stay healthy, and be on the lookout for our Top Ten Takeaways from the President's Cancer Panel.