April 21, 2017– Chicago, IL– On the morning of Friday, April 21, 2017, CancerIQ CEO, Feyi Olopade and fellow Chicago-area leaders convened for a networking breakfast and discussion about the power of "Brand Meets Purpose."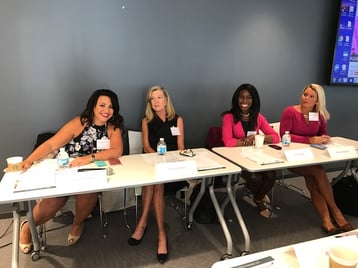 Hosted and Sponsored by Susan G. Komen of Chicago and GCG Financial, the event brought together four leaders passionate about making a difference in the lives of women in both their professional and personal lives.
Olopade was joined by Michelle Mekky, President and Founder of Mekky Media Relations, Sheila Hartnett, Geometry Global Chairman, and Mika Stambaug, VP of C-Strategies LL, for a discussion on the experiences that helped them recognize the meaning and importance of building a career that makes an impact and empowers women.
In her opening statements, Bonnie Gordon, Executive Director of Komen Chicago expressed her deep respect for the four speakers.
"I love these women. Each of them have incorporated passion and meaning into their careers."
This panel of accomplished women discussed topics from personal and professional branding to role models to incorporating philanthropy and awareness into their busy schedules.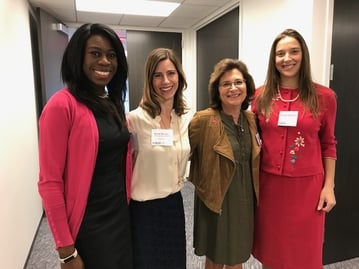 Olopade Ayodele discussed the importance of weaving your passions into your everyday tasks to support your philanthropic efforts. She explained how CancerIQ provides a unique opportunity for its employees as they are creating and selling a product that impacts people's lives.
"For many years of my career I was on the outside of healthcare and not in healthcare," said Olopade Ayodele. "I had my lightbulb moment inside healthcare and thinking about how can I make it so that where you live doesn't impact whether you live."
This same question and a need for associating breast cancer with real change was echoed by Gorden.
"People associate pink with breast cancer. That is great, but we want people to associate action with breast cancer."
The event was attended by 50 people in the area who similarly feel passionate about fighting for women's leadership roles and advancing research and
awareness of breast cancer.
Below Olopade Ayodele discusses her "wakeup call" and why she decided to switch careers to make an impact in cancer research and prevention.
About Susan G. Komen- Chicago Area Affiliate
The Chicagoland Affiliate of Susan G. Komen was established in 1997 and has awarded over $16 million towards the fight against breast cancer by funding grassroots breast health navigation, breast cancer screening and treatment services for insured and uninsured individuals. Komen Chicago services Cook, Dupage, Lake, Kane and McHenry Counties.
About CancerIQ
CancerIQ is a venture-backed digital health company that uses predictive analytics to help doctors understand their patient's risk of getting cancer and dying from cancer. CancerIQ's cloud software makes it easier and cheaper for providers to deliver cancer genetic risk assessment services, and improve patient access to life-saving interventions that can pre-empt or prevent this devastating disease.
CancerIQ was a resident of both 1871 and MATTER, a Chicago Booth New Venture Challenge Finalist, a member of Rock Health's portfolio, and a Healthcare Category winner at the 1776 Global Challenge Cup in 2014.