June 3, 2017- Chicago, IL- Dr. Olufunmilayo Olopade, CancerIQ co-founder, was honored with the 2017 ASCO HumanitarianAward during the 2017 ASCO Annual Meeting in Chicago, IL. First presented in 2011, the Humanitarian Award recognizes an oncologist who personifies ASCO's mission
and values by going above and beyond the call of duty in providing outstanding patient care through innovative means or exceptional service or leadership in the U.S.A or abroad.
Dr. Olopade is an internationally renowned expert on breast cancer genetics with a specific focus on BRCA1 and BRCA2 mutations in women of African descent. In her research, she found that women of African ancestry are disproportionately diagnosed with forms of aggressive breast cancer at a young age due to racial genetic risk factors.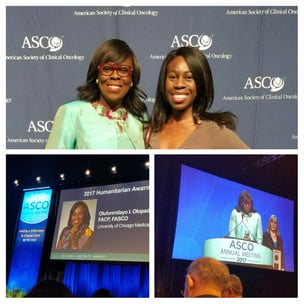 Originally from Nigeria, Dr. Olopade describes her work in an interview with ASCO.
"We want to gain a better understanding of how mutations arise, risk factors for different kinds of cancers, how genomic alterations can be targeted for more effective treatment and how our immune system works to prevent cancer," she said. "We now have tools to personalize cancer risk assessment to improve outcomes."
She currently serves as a Walter L. Palmer Distinguished Service Professor of Medicine and Human Genetics, Associate Dean of Global Health and Director of the Center for Clinical Cancer Genetics at the University of Chicago.
Dr. Olopade founded the Center for Clinical Cancer Genetics in 1992 and was one of the first doctors in the nation to to offer cancer risk assessment and genetic testing at scale. However, she found that a shortage of genetic counselors often put patients on long waiting lists, leaving rural and underserved communities without access to genetics.
With CancerIQ, her goal is to improve the productivity of the genetics workforce and make it easier for providers to build cancer genetics knowledge.
"It's all about the workflow. Doctors are too busy to keep up with ever expanding genetic knowledge," said Dr. Olopade. "I want to put CancerIQ in every practice so that we can eliminate barriers to cancer risk assessment and genetic testing."
Dr. Olopade's has also focused on expanding personalized cancer risk assessment to more patients and has assisted with the development of CancerIQ since the beginning.
Dr. Olopade's work has impacted millions of women around the world at high risk for breast cancer. She is an advocate for improving personalized cancer risk assessment for patients.
"We now have life saving interventions. Everyone needs access to quality cancer risk assessment and genetic testing."