October 25, 2016– Chicago, IL— CancerIQ, a digital health company that uses predictive analytics to help doctors understand their patient's risk of getting cancer and dying from cancer, was named a winner at the 15th annual Chicago Innovation Awards for its flagship product, CancerIQ Risk software.
The Chicago Innovation Awards is the Chicago region's foremost recognition of the most innovative new products or services brought to market or public service each year. The awards were presented at the Harris Theater on Oct. 25, recognizing the city's top innovators out of record-breaking 643 nominations.
CancerIQ was recognized with the Up-and-Comer award for its groundbreaking work in healthcare technology.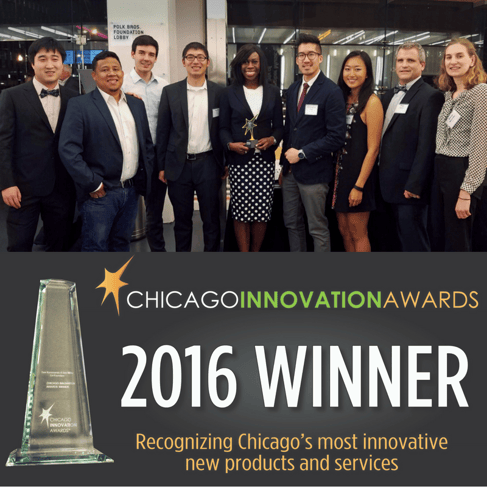 CancerIQ was founded in 2013 at the University of Chicago by co-founders Feyi Olopade, CEO, and Haibo Lu, VP of Product. CancerIQ's cloud software makes it easier and cheaper for providers to deliver cancer genetic risk assessment services, and improve patient access to life-saving interventions that can pre-empt or prevent this devastating disease. Today, the company is quickly growing and has served over 9,000 patients.
"Our software gives thousands of more patients access to genetics care, allowing patients and providers the ability to predict and prevent hereditary cancer," said Feyi Olopade, founder of CancerIQ. "Our commitment to patient-centered design in the rapidly growing genomics space symbolizes the spirit of the Chicago Innovation Awards."
CancerIQ enables clinics of diverse sizes and populations to start, run and grow an impactful cancer risk program. CancerIQ uses predictive genomic analytics to identify patients at risk of breast, colon, and ovarian cancer; Then with robust clinical guidance and patient education and communication tools, CancerIQ gives providers the ability to navigate high-risk patients towards preventative care.
"Local innovators continue to illuminate the Chicago region as a growing hotbed of creative activity that cuts across all sectors and industries," said Tom Kuczmarski, co-founder with Chicago journalist Dan Miller of the awards. "Every winner of the Chicago Innovation Awards demonstrates how a unique solution to an unmet need can bring transformative impact in the marketplace."
This is CancerIQ's first nomination and win at the Chicago Innovation Awards.
"CancerIQ is very proud to receive this award," said Olopade. "We love calling Chicago our home, as it has provided us with a rich innovation community to grow our product and company and ultimately achieve our goal of creating greater patient access to preventative cancer care."