March 27, 2017– New York, NY– You can take the innovators out of Chicago, but you definitely can't take Chicago out of the innovators. On Monday, March 27, this couldn't have been more true as CancerIQ joined fellow Chicago Innovation Award winners and Mayor Rahm Emanuel in New York City to ring the Closing Nasdaq Bell.
The event, arranged by the Chicago Innovation Awards, emphasized the surge of innovation that is occurring in the Chicago region and shines a spotlight on the organizations that make up its diverse economy.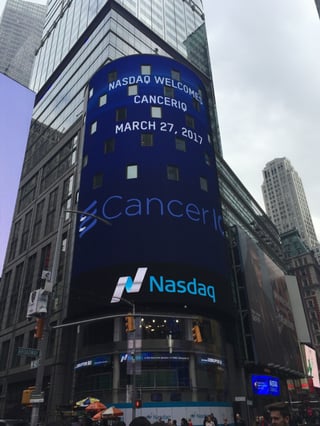 CancerIQ was recognized as an Up-and-Comer out of a record-breaking 643 nominations at the Chicago Innovation Awards ceremony in October 2016.
CancerIQ was awarded for its flagship product, CancerIQ Risk, a turnkey solution that helps providers identify patients at risk for developing cancer - and proactively intervene with the right care at the right time. CancerIQ Risk has expanded from cancer centers to breast centers - with the goal to prevent cancer and detect it early.
Representing CancerIQ at the NASDAQ was co-founders Feyi Olopade Ayodele, CEO, and Haibo Lu, VP of Product, and team members Kevin Tao, Senior Software Engineer and Mike Bowles,
Business Development.

"It's not every day you get to be part of the Nasdaq closing bell ceremony," said Olopade. "We feel incredibly honored to share this moment alongside fellow Chicago companies."
During Monday's event, Olopade and Lu participated in a roundtable discussion with Mayor Emanuel who reaffirmed the city's commitment to fostering an environment of innovation and creating a platform for local entrepreneurs to thrive.
"Chicago's economy is one of the most diverse in the world, with no sector reaching more than 13-14% of employment," said Mayor Emanuel. "Our diversity is a tremendous strength for us as a city."
This diversity has created an ideal landscape for Chicago's technology sector, providing a number of B2B opportunities for the growing tech sector. In the past four years, Chicago has seen the tech sector grow from 3 percent to 11 percent of the total economy.
On the global scale, this has not gone unnoticed, and Chicago was ranked number 6 out of 10 global technology innovation hubs in a 2016 report by KPMG.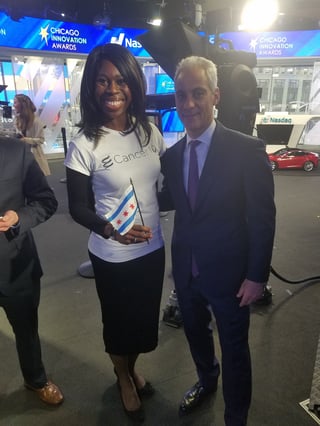 But Mayor Emanuel recognized that his work is not done. For local startups and Chicago's tech environment to reach the level of success seen in the East and West coasts, there must be support from Chicago's larger corporate companies.
He enforced how important it is for larger Chicago companies to "buy local" and work with homegrown innovators

to tackle challenges in Chicago and beyond. He committed to facilitating connections between the awarded startups and larger companies in their sector.

CancerIQ found a home in Chicago after Olopade was working at the University of Chicago and saw how hard it was for area community hospitals to offer effective care in the area of predictable, hereditary cancers.

After building the company as part of Rock Health's accelerator program in San Francisco, Olopade and Lu returned to Chicago to work with their first customer, a major healthcare institution in the Midwest. Since then however, most of their early adopters have been on the coasts.
"For us, it's important that patients in Chicago and the Midwest have the same access to cutting edge technology as those on the East and West coasts," said Olopade.
During the roundtable discussion with Mayor Emanuel, Olopade discussed working with the City of Chicago to expand CancerIQ's technology to public health institutions to catch cancer earlier and reduce disparities in outcomes.
"We are very excited to solve problems in our own backyeard", said Olopade. "We feel very proud to call ourselves a Chicago company and look forward to working with more Chicago healthcare organizations in the future."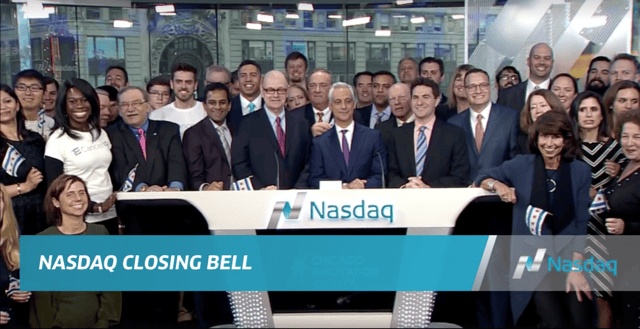 The Chicago Innovation Award Winners ringing the Nasdaq Closing Bell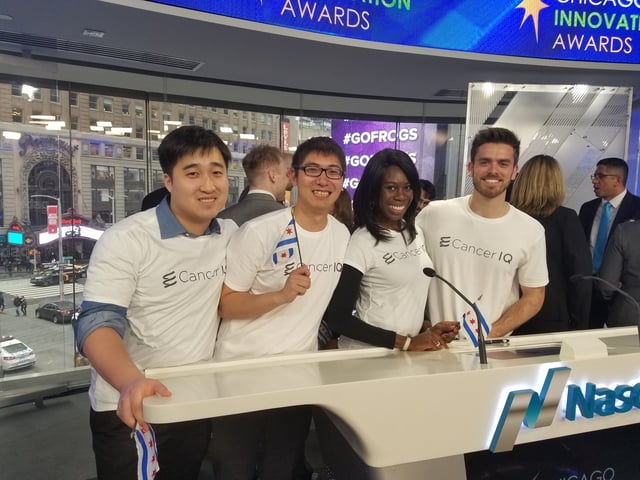 Select members of the CancerIQ Team
About CancerIQ
CancerIQ is a venture-backed digital health company that uses predictive analytics to help doctors understand their patient's risk of getting cancer and dying from cancer. CancerIQ's cloud software makes it easier and cheaper for providers to deliver cancer genetic risk assessment services, and improve patient access to life-saving interventions that can pre-empt or prevent this devastating disease.
CancerIQ was a resident of both 1871 and MATTER, a Chicago Booth New Venture Challenge Finalist, a member of Rock Health's portfolio, and a Healthcare Category winner at the 1776 Global Challenge Cup in 2014.